1
« on: January 09, 2020, 02:34:58 PM »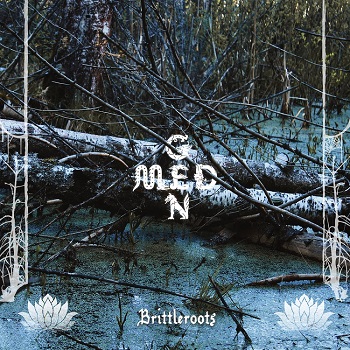 Med Gen "Brittleroots" CDr
Med Gen "Brittleroots" CDr album was released September 22nd, 2018 on Russian label ΠΑΝΘΕΟΝ, as a part of "Autumnal Equinox" handmade box with another two CDr titles, Sun Through Eyelids "Glacial Iridescence" and Dronny Darko & Apollonius "The Sea Of Potentials", but the album is available also separately. I believe the CDr album was released in a limited edition of 50 copies, while 20 of them were included in the box. As usual for this label, driven by Tim Six, each of their releases is a true piece of art, all created with love and passion! It's highly recommended to discover!!! The album itself is packaged in a black cardboard envelope with blue ribbon and front/back cover pictures. Credit for the artwork goes except Med Gen also to Tim Six. Since I was not familiar with this Russian project led by Mikhail Selitsky, who carves immersing soundworlds since 2013, this release was for me a really big revelation.
Secluded hums announce almost 15-minute "Peat Accumulation", which straightly dives into perplexingly engulfing subterranean realms, eerily organic, yet magnificently frightening. Languidly helixing and aeonianly transporting drone layers guard above and persistently coalesce with ear-tickling cavernous field recordings. Towards the last third slowly paced tribal beat sneak in along with ephemeral cinematic traceries. "Thallophyta", another longer piece clocking past 11-minute mark, dives into abysmal sceneries, although illuminated by glimpsing subaquatic gurgles and intangibly echoed throbs. Later metamorphosing through slightly calmer, but ghostly roaring domains into massively enveloping stratums. "Nelumbo" safely glides through gracefully lachrymose and sonorously immense realms with inconspicuously permeating mysterious howls and swampy rattles. "Man From The Bog" maintains its enigmatic trace, but this time the biotic rumbles and calls juxtapose with twisted cyber-tech glimmers and subdued beat. "Silt", at 5:01 by far the shortest track on "Brittleroots", merges nebulously undulating crepuscular vistas with mesmerizingly low-pitched drumming. 18 minutes long "Oxalis Poisoning" drifts towards voluminously spellbinding and euphoniously blossoming euphoria, after 7 minutes transmuting into amplifying tides of drone billows softened by abundantly organic sparkles. Then evanescing through thrillingly vertexing magnitudes reinforced by tenebrous voice samples, indeed an epic ride!!! Closing "Typha" keeps the denser scenario, where reverberating, rising and ebbing monochromatic drone sheets amalgamate with chirping consonances and transient hazy rhythm fragments.
79-minute "Brittleroots" album is a strikingly immersing journey, masterfully amalgamating heavier drone signatures, ambiguously monolithic, with lushly surrounding and tranquilly shimmering wetland symphonies, coexisting in balmily resonant equilibrium. A superb recording by Med Gen, big applaud to Mikhail Selitsky!!! It's one of my fave albums released by ΠΑΝΘΕΟΝ! Med Gen's discography features more than ten other albums plus one collaboration with lost-radio project, all available in digital formats, but I hope for more releases in the future on a rounded silver object. And by the way, the digital edition of "Brittleroots" includes a bonus track, over 21-minutes long "Fallen Woods". Keep an eye and ear on this gifted soundsculptor from Russia!!!
Richard Gürtler (Jan 06, 2020, Bratislava, Slovakia)