121
« on: March 08, 2011, 03:03:11 PM »
Just finished my first full listen of
A Quiet Light
. Fantastic contemplative warm floating spacemusic! Some gentle rhythms are present on some tracks, not so much beats as melodic pulses (reminded me a bit of John Lyell's
Dimensions
CD and also his previous album with Brent Reiland,
Synthetic Universe
, but Meg's music is warmer, flows more, and the rhythms are less "in your face").
A Quiet Light
also shares some qualities with Geodesium's (aka Mark Pedersen who, BTW, also has a new CD out as well) quieter more subdued work. Finally, of course, there is also a similarity to Serrie's earlier classic works such as
And The Stars Go with You
...but despite all the comparisons I make, this is definitely A Meg Bowles CD, not an imitation of anyone else. Every now and then I heard textures and instrumentation similar to
Blue Cosmos
or
From the Dark Earth
(less the latter). This is not dark ambient at all, IMO, but is not feathery light either. It's not uber-dramatic, like Telomere's (Chris MacDonald) Serge synthesizer, or Demby's spacemusic...the music is laid back and relaxing, yet richly evocative and not in the least bit syrupy (as some have characterized such Serrie discs as
Lumia Nights
and
Midsummer Century
). The titles aptly convey the music that awaits you: "Nocturnal Flight," "Glacial Dawn," "Beyond the Far Shore," and the title track, to name 4 of the 6 songs. Track length runs from 8:22 to the closing title track at 14:38, so it's ideal "spacing out" music with distinct gaps between cuts but seamless transitions. Recording quality is excellent. I listened on headphones and the mix and engineering is spot on...different textures, rhythms, and musical both coalesce and stay distinct, which is as it should be IMO.
Cool cover, too!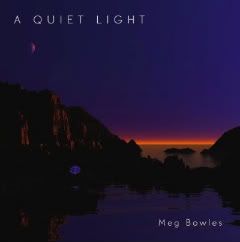 Welcome back, Meg! It's obvious that not only have you not lost a step, but you've have actually reached a higher level of spacemusic mastery!