1
« on: February 23, 2019, 08:49:44 AM »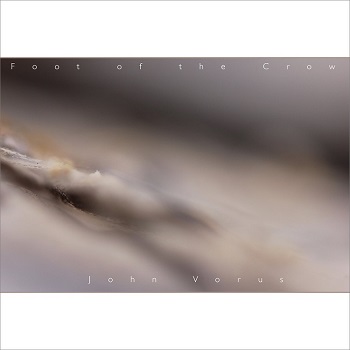 John Vorus "Foot Of The Crow" CDr
John Vorus, in North Carolina based didgeridoo player extraordinaire blew my mind about 11 years ago with his thrillingly submersible electro-acoustic odyssey "Transmuting Currents" released during 2006 on his own Ambient Distillery label. And visually it was as much transporting due to exquisitely executed packaging exhibiting custom made die cut fiberboard CD wallet with slip case and stunningly interacting matte and glossy prints. Even now, after many years, this is still one of the most beautiful artworks in my collection. I should mention "Transmuting Currents" album involved except few guests also Steve Roach, as a mixing engineer and also as a producer on two tracks. It's a pity it took more than 10 years before John Vorus made comeback with his next recording entitled "Foot Of The Crow". The album is out since September 2017 in digital formats, but also a very small CDr edition was released several months later, packaged in a 4-panel eco wallet and featuring photographs and layout by the artist himself.
Nearly 12 minutes long "Initiation", as displayed by its title, reveals the journey with subterraneanly sinuous drones and primordial tribal tapestries, while buzzing didge stratums are guarding above and carving eternal helixes. Primal beats continuously keep on rising and ebbing, towards the end the drumming tension evanesces through organically perplexing cavernous realms. On 10-minute "Raven Medicine" John Vorus is joined by percussionist River Guerguerian, who titillates the listener's ears with his intangibly meditative gongs and singing bowls. But the center stage is mostly dominated by harshly undulating waves of locomoting synthetic drums, except some soothingly enveloping passages permeated by hypogeally biotic traceries. The name of the next piece "Night Sounds" just speaks for itself with an array of relieving natural symphonies by its nocturnal dwellers. "Calabash" unfolds with slowly permeating didge-driven drone hums, which constantly expand into heavier, monolithic, yet multi-dimensionally awe-inspiring meridians. Tenebrously dense and immensely subterrestrial dronescaping, pure bliss, more please!!! Shorter "Seer" immediately unlocks the gates of magnificently transcendental oasis, guided by nebulously impalpable guest chants by Sage Sansone. On "Skeleton Land", which clocks to nearly 10-minute mark, persistent tribal grooves commingle with perpetually spiraling didge buzzes and mesmerizingly shamanic voice patterns. "Creatures Of The Backwater" carve thrillingly crepuscular sceneries, where vaguely distant tribals bridge with ambiguously twisted groans and gossamery organic subtleties. Linda Go gets vocal credit on this track as well as on previous "Skeleton Land". At 14:29 the longest piece on the album, "Unraveling Vortices", closes this staggeringly immersing ride with serpentinely infinite didgeridoo murmurs and rattles meticulously reinforced by intriguingly unfathomable and eerily engulfing overtone voice magic by Gwendolyn. Wow!
The sound quality still needs to be improved and this includes also some unwanted sound issues on the CDr version. But otherwise John Vorus is responsible for another truly masterful album, kudos to him as well as to his guests, "Foot Of The Crow" offers exceptionally mindscaping listening experience. Bravo, John!!! And I hope you will keep your Ambient Distillery busier, we are always thirsty!!! I am not sure if the CDr edition is still available, but you can always grab a digital version of this gem. "Foot Of The Crow" is highly recommended!!!
Richard Gürtler (Feb 16, 2019, Bratislava, Slovakia)