1
« on: Today at 11:35:08 AM »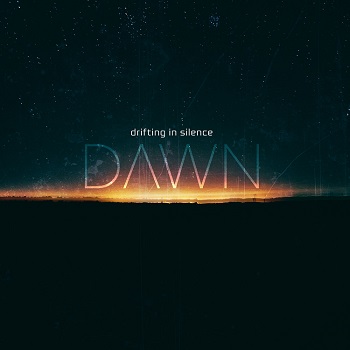 Drifting In Silence "Dawn" CDr
Drifting In Silence is Derrick Stembridge, an artist based in Raleigh, North Carolina. Although releasing albums since 2006, it took me much longer time before I was able to explore his soundworlds. If I am counting right, it was his eight album "Artificial", which is available on CDr format and was released during January 2016, that really caught my attention at the beginning of 2017. As far I know, older albums by Drifting In Silence were bridging ambient carvings with more industrial and IDM-flavored ingredients. With "Artificial" its sole creator returned to pure atmospheric soundsculpting and just the same applies to the latest album "Dawn". This one is out since October 2017 on Labile Records, as a CDr format packaged in a 4-panel digipak. I believe Labile Records is run by Derrick Stembridge, who is releasing on this label also his other related projects like Unknowndivide, delving into more groovier terrains or Re:conscious, a collaborative force featuring except Derrick also Mike Petruna aka DJ Acidgrin from Nashville, Tennessee, covering IDM, EBM or dub-techno styled electronica. Anyway, let's plunge into "Dawn"...
5-plus minutes long "Without" straightly drifts into ethereal domains with gently expansive cascades blended with intangibly distant piano traceries, then surreptitiously metamorphosing into triumphant panoptic blankets reinforced by flickering sequences. Languid tides announce "Verses", at 4:27 the shortest composition on "Dawn", which calmly shifts into gorgeously longing sceneries masterfully painted with monochromatically silent drone supported by solitarily hazy piano narrations, drifting, meandering, culminating, evanescing... Aural ambrosia is served here in a large dose, bravo, Drifting In Silence! "Cursive" reveals immensely enveloping and warmly lachrymose terrains, where cinematically introspective nuances serenely commingle with elusively permeating pillows of embrace, ranging from weeping to praising. Deeply evocative! "Sentiment" exposes its name precisely, when driven by tranquilly resonant brooding solitudes and gliding through intensely scenic panoramas, reaching piquantly amplifying meridians and then fading away into eternal stillness. Pure beauty! The title piece, "Dawn", moves info slightly rawer paths, yet spaciously sonorous, serving soothing cushions for titillating stringed lyricism. "Remember" attracts with sinuously drifting layers percolated by emotionally traversing patterns, before transmuting into vividly bouncing sequencer scenario. The longest track on the album, "Anotherway", clocking over 6 and a half minutes mark, delves into sublimely expanding vastness and keep on floating through awe-inspiring grandness. "October" follows the route of its predecessor, but drifting intensity is carefully softened by balmily encircling piano reflections. Autumnal feeling works just splendidly with this composition. Exquisitely magnificent in depth!!! "Cycle" unfolds with dreamy distant washes, but the stage is quickly stolen by glistening breeze of acoustic strings. Shimmeringly euphonious and heartwarmingly evocative, a true sonic elixir to soothe your body and mind!!! Deeply expressive quietudes of "Adieu" guide this immensely poignant album into its finale.
Over 57 minutes long "Dawn" album is a true aural jewel, I believe still quite hidden, unfortunately! Recordings like this are sometime released very quietly, almost inconspicuously, but the more surprising and rewarding is the final outcome. "Dawn" is exactly that kind of album, a true magic of musingly immersing and enchantingly gratifying work by Derrick Stembridge aka Drifting In Silence. A fully crafted display that needs to be explored, experienced and celebrated, bravo, Derrick!!!
Richard Gürtler (Jan 14, 2019, Bratislava, Slovakia)