481
« on: December 21, 2010, 02:28:11 PM »
Bought recently a Schatten pickup for my nylon string guitar and the preamp to go with it.
http://schattendesign.com/HFN-Artist.htm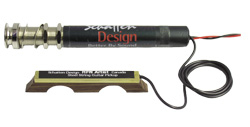 Installation wasn't too easy (to say the least !) but I'm pleased with the sound - much better than the guitars I tried with under-the-saddle piezos. Will be using the combination to record the nylon string parts on my next album.