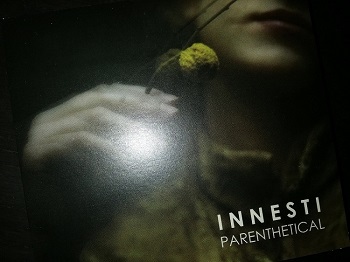 Innesti "Parenthetical" CDr
Delving deeply into exquisitely balm and intimately immersing terrains, where dreamily enveloping blankets meticulously commingle with gossamery organic quietudes, where infinitely monochromatic glides amalgamate with soulfully introspective traces, where crepuscularly charming serenities bridge with gently cascading reflections... Innesti continuously keeps on carving exceptionally transporting and warmly ethereal images, pure sonic medicine awaits here...
60-minute "Parenthetical" album is self-released by the artist since January 5th, 2020. The CDr features cover photographs by Katia Chausheva, it comes as a 4-panel digipak and the edition is limited to 100 copies. For more hazily engulfing gems, don't hesitate to explore also "In Currents", "Formless" and "Between Worlds" albums released by Innesti since the end of 2018.
Richard Gürtler (Jan 26, 2020, Bratislava, Slovakia)